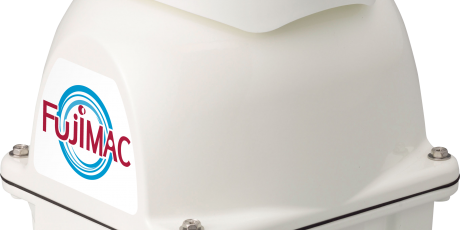 Breakthrough "RII" Series
FujiMAC

Blowers

The "RII" Series of MACBlowers represents the culmination of years of dedicated R&D and a fierce commitment to engineering and manufacturing the highest quality linear diaphragm blowers in the world.  
Description
"RII" Series upgrades include use of electromagnets, smaller diaphragms and re-engineered compression chambers, all of which translate into blowers that are cooler, quieter, lighter, incredibly efficient and offer top-in-class performance for durability and long life. We want to impress you with our product, our service and commitment to be your linear air diaphragm blower company and technology of choice.
Features
Best-in-Class Energy Efficiency
Engineering design breakthroughs make

FujiMAC

 Blowers the best choice for energy conservation and economical operation.
Best-in-Class Low Noise Output
Quietest air diaphragm blower among the four U.S. market leading brands.

Highest Operational Durability




FujiMAC 

Blowers run seven to nine degrees cooler than leading market brands.
Best Warranty
The

 FujiMAC

Blower warranty is typically twice that of leading U.S. brands.
Dependable, Professional Service Support


FujiMAC

Blowers are only sold through distribution entities with full product training, spare parts in stock and absolute top quality customer service.
Long Life


FujiMAC

Blowers have been tested for endurance in high and low temperature extremes proving the durability of our diaphragm and other components.
Easy Maintenance
The diaphragm assemblies are easily replaced and replacement parts are readily available from Fuji Clean USA.
| | | | | | | | |
| --- | --- | --- | --- | --- | --- | --- | --- |
| Model No. | Hertz | Airflow (l/min) | Normal Pressure | Outlet Diameter ID | Outlet Diameter OD | Weight | Power Use |
| FujiMAC  40RII | 60 Hz | 40 | 12kPa | 0.511 inches (13mm) | 0.708 inches (18mm) | 11 Lbs. | 30W |
| FujiMAC  60RII | 60 Hz | 60 | 15kPa | 0.511 inches (13mm) | 0.708 inches (18mm) | 11 Lbs. | 47W |
| FujiMAC  80RII | 60 Hz | 80 | 15kPa | 0.511 inches (13mm) | 0.708 inches (18mm) | 11 Lbs. | 51W |
| FujiMAC 100RII | 60 Hz | 100 | 18kPa | 0.511 inches (13mm) | 0.708 inches (18mm) | 11 Lbs. | 74W |
| FujiMAC 120RII | 60 Hz | 120 | 18kPa | 0.787 inches (20mm) | 1.023 inches (26mm) | 11 Lbs. | 93W |
| FujiMAC 150RII | 60 Hz | 150 | 18kPa | 0.787 inches (20mm) | 1.023 inches (26mm) | 20 Lbs. | 115W |
| FujiMAC 200RII | 60 Hz | 200 | 18kPa | 0.787 inches (20mm) | 1.023 inches (26mm) | 20 Lbs. | 155W |