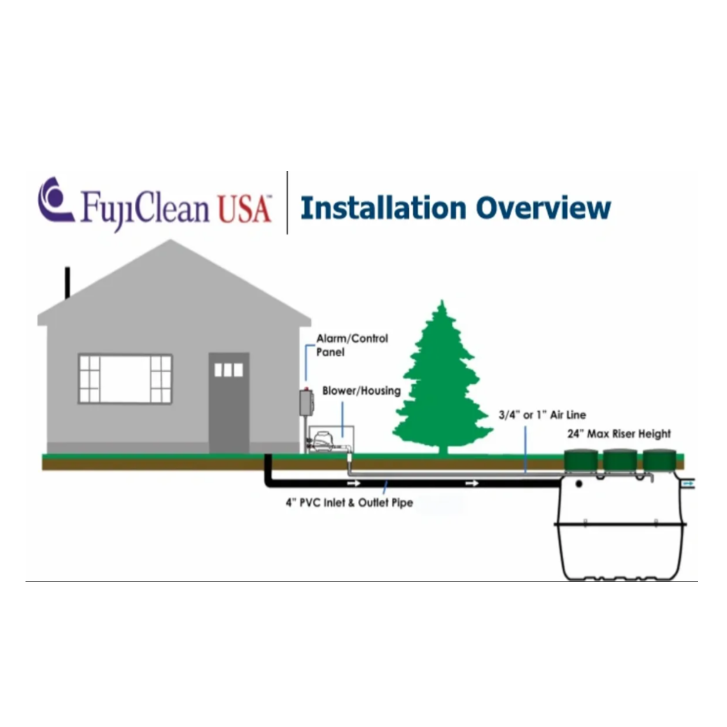 Homeowners
You just want a system that works and that you simply don't think about.  With over 2 million treatment systems serving homes all over the world, FujiClean has more installed residential treatment systems than any other technology.  Reasons for the systems' popularity include:
Unobtrusive.  Small system footprint allows for minimal site aesthetic disruption
Inexpensive to Operate.  System requires minimal power draw equivalent to less than a 60-watt lightbulb or about $5 per month in most locations.
Accommodating.  System has built-in capacity to absorb a wide range of real-life flow variables from flow spikes to seasonal use applications.  In other words the system is designed to accommodate "normal" living patterns.
Contractors
You want a system that can be transported and installed easily, efficiently, that works smoothly and keeps your customer happy for the long-term.
Simple Installation.  Plug-and-play one-tank system with one airline to power the entire system ensures installation efficiency.  No frills alarm and simple operation eliminates chance of installation or operational error caused by complex systems.
Easy Transport.  Lightweight FRP tank is easily transported and maneuvered into difficult sites without the need for heavy equipment, cranes or boom trucks.
Multiple Sized Models.  FujiClean offers multiple models to accommodate residential systems sized from 500-gallons per day to 1350-gallons per day, thus providing one-tank installation options for most residential applications.
Simple and Specific O&M.  System O&M consists mainly of system flushback, all accomplished from above-ground with easy-turning valves.  Nothing to pull out of system.  Nothing to replace.
Engineers/Designers
You want a system that's easy to understand and design, keeps your contractor and customer happy, that works and treats as specified and most important…lets you sleep at night and does not boomerang back to your desk with additional problems to solve.
Small Footprint.  Ideal option for small, tight or difficult to access sites.
Track Record.  Largest number of installed and operating systems worldwide.
Design Assistance.  In-house engineer to provide system sketches and design layouts; especially for non-standard applications.  Service provided free-of-charge.
Simple Operation.  No moving parts inside tank combined with best-in-class FujiMAC blower assures rugged, long-lasting operation. 
Robust.  Many years of test data demonstrate high level treatment performance to assure environmental safety and long term health of your field disposal system.
Regulators
You want systems with proper regulatory approval, a proven track record and most important, backed by a local distributor and manufacturer who communicates, cares about quality installations and maintenance and who follows up to assure proper installation, proper maintenance and long-term proper operation.
Proven.  NSF 40, 40/245 and field certified to highest approval level in many tightly regulated states such as Virginia, Maryland, Suffolk County New York and Florida.  Ongoing field testing underway in various states with past field test data available for inspection.
Trustworthy.  FujiClean USA has a corporate policy that assumes "ownership" of every installed system.  We react to problems.  We troubleshoot.  Most important, we strive to meet all rules and standards in every jurisdiction.
For immediate assistance, please call (207) 406-2927, or fill in the form below. We look forward to serving your needs!