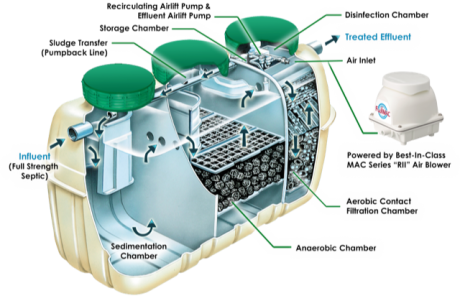 Designed to treat up to 700 gallons per day of domestic strength wastewater, the one-tank CEN7 model is the company's mid-size residential system for enhanced nitrogen removal in nutrient sensitive areas. Certified to NSF/ANSI 40/245 standards, this exceptionally small footprint system has demonstrated best-in-class nitrogen removal performance in multiple-state field testing protocols.
Description
The CEN7 is a rugged, compact, one-tank workhorse. Featuring a footprint of only 8'-3" x 4'-9", this system is rated to treat domestic strength wastewater flows of 700-gallons per day to NSF 40/245 standards making it a logical choice for septic professionals designing systems for mid-sized homes in tight, environmentally sensitive locations where maximum nitrogen reduction is required or desired.
Weighing only 705 pounds, this durable, hand-laid fiber-reinforced plastic (FRP) unit can be squeezed into tight and difficult sites. Designed to accommodate variable flows and shock loadings as well as being highly energy efficient (1.7 kWh/day), this low maintenance system, like the other CEN residential models, is ideally suited for both replacement sites and new construction.
Features
Reliable, Robust Performance. Based on both 3rd party testing in the U.S. (NSF) and corroborated by thousands of field test data points worldwide (including the U.S.) the CEN7 produces a consistent effluent quality with a pollutant removal ratio of around 97% - 98% and nitrogen reducing ratio of 75% (NSF data).

Proven Design.  With over 50 years' experience, over 2+ million residential and 50,000 installed and operating commercial systems, FujiClean Co., Ltd. (FujiClean USA's parent company) is the world's leading manufacturer of high efficiency onsite wastewater treatment systems.   The company employs over 50 full-time staff engineers, with a focus on product testing and product improvement.  The breakthrough CE and CEN model series are the company's most popular and successful product lines.

Low Profile. Aesthetically pleasing, the only visible indication of these one-tank systems are two 20" diameter and one 24" diameter at-grade covers. The unobtrusive football-sized FujiMAC 100RII blower and very small alarm panel can be located up to 100-ft. away and easily shielded from direct view.

Easy Maintenance.  FujiClean CEN units are designed for efficient and effective semi-annual maintenance; the majority of which is accomplished with simple turning of control dials that purges heavy bio-film growth from the treatment media. No messy component removal and hose-down is necessary. A typical service visit that includes solids backwash cleaning takes about 20-30 minutes. The system is designed for efficient storage of sludge. Depending on use and influent strength, typical sludge pump out is once every 2-3 years.

Low Operational Cost.  Best-in-class FujiMAC RII series linear diaphragm air blowers are both energy efficient and durable. Compare the system's 1.7 kWh/day power draw with the energy required of other systems. FujiMAC blowers should last around 5-years and low-cost blower rebuild kits are available from all Fuji Clean certified distributors and service providers.

Quiet. FujiMAC 100RII blower operates at a "library quiet" 40 decibels.

Easy Installation.  Plug-and-play units are ready for installation upon delivery.  No onsite system assembly required.  Systems are compatible with both Tuf-Tite and Polylok risers.